Pregnancy
UPDATE: There is specific advice for pregnant women on the Covid-19 outbreak.
Pregnancy can be an exciting time to imagine life when your baby arrives. Babies in the womb can hear and recognise voices and can be soothed by gentle stroking. Ways to bond with your baby in pregnancy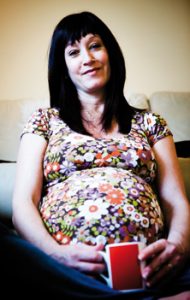 are:
Talk: Speak or sing to your bump (really, go on!) – family can too
Play & Cuddle: Gently stroke your bump especially if baby is moving
Relax: Spend time imagining your baby
Respond: Give your baby a nickname
For examples of how to use the Five to Thrive Building Blocks here are some free downloadable resources:
RESPOND
Have a look at this free online course on pregnancy using the code APPLEJACKS – partners and unlimited family and friends can join too completely free!
Pregnant mums aged 19 and under can have support from specially trained Family Nurses from pregnancy until their child is two.
Having a smokefree pregnancy is the best step you can take to protect your little one and give them the very best start. For support to stop smoking call 0800 599 9880 or complete an online referral form
Plan ahead on how you'll feed your baby can help when they arrive. Breastfeeding can be a wonderful way to bond whilst protecting mum's and baby's health.
For information and advice visit