School meals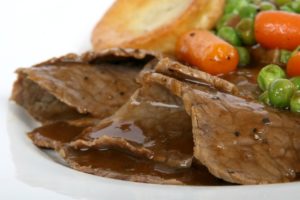 Solihull Catering Service offers menus which are fully compliant with school food standards as set by the Government and we encourage pupils to choose food wisely and achieve a balanced diet.
If your child has any specific dietary needs due to food allergies or intolerances, religious or ethical beliefs, please let us know and we are happy to discuss your child's requirements on an individual basis.
Our menus contain:
Less fat – we use polyunsaturated pure vegetable oil for cooking and oven bake foods in preference to frying.
Less sugar – we have reduced the sugar content in our recipes.
Less salt – we use the minimum amount of salt in our recipes and do not place salt on the dining tables.
More fibre – we have increased the fibre content by using wholemeal bread, flour and pasta, fresh fruit and vegetable crudités and other items enriched in fibre.
So, What are the benefits for regularly having a school lunch?
School meals offer a choice of freshly cooked main meals and desserts every day – providing excellent value for money. Someone else can plan, prepare and cook lunch for your child, saving you time in preparing a packed lunch.  Children can sit and enjoy their meal with friends in a dining room whilst developing essential social skills that will be valuable throughout their lives and well-fed children are more likely to be receptive to the day's learning.
Solihull Catering Service is accredited with the independently awarded Silver Food for Life Catering Mark which is a symbol of trust across public and private sector catering.
As a responsible caterer, we source meat and poultry products from within the UK, with many products coming from the surrounding counties. All meat and poultry fulfil the 'Red Tractor Assured Food Standards'. All fish products on our menus meet 'Marine Stewardship Council' standards.
Catering Mark holders are audited to ensure they meet high standards of provenance and traceability, providing reassurance to customers that meals are freshly prepared using environmentally-sustainable and seasonal ingredients. Visit www.foodforlife.org.uk  for more information.