Newly qualified teacher (NQT) induction
For Early Career Teachers (ECTs) starting induction from September 2021, all supporting information will be available on the Solihull council extranet shortly. Any schools who buy into the Solihull appropriate body service will be given access to this information. If you have not already registered your ECTs for September 2021 and would like to, please contact us at ectinduction@solihull.gov.uk for information.
The information below relates to NQTs who stared induction before September 2021
Deadline for assessment forms to reach us for 2021-2022:
Autumn term               Friday 10 December 2021
Spring term                 Friday 25 March 2022
Summer term             Friday 8 July 2022
Please email assessment forms to: ectinduction@solihull.gov.uk
Assessment Form 1, 2 and Interim Assessment Form Final
NQT-induction-period-extension-notification
For NQTs doing their induction on a part time basis, induction will take longer so please contact us to confirm submission dates for their assessments.
Head teachers and NQT mentors/tutors should contact the adviser with responsibility for NQTs at the local authority with any issues regarding NQTs as soon as they arise. Please contact us for their details.
NQTs can speak to an impartial adviser at the local authority for confidential advice. Please contact us for their details: ectinduction@solihull.gov.uk
Please contact your Human Resources adviser for information on contracts of employment and the process regarding failure of induction.
Schools/academies are required to have a policy with regards to NQTs. The DfE recommend that this policy is reviewed annually at governing board level. A template for adaptation can be found here.
Useful links
DfE teachers standards: https://www.gov.uk/government/publications/teachers-standards
DfE NQT statutory induction guidance: https://www.gov.uk/government/publications/induction-for-newly-qualified-teachers-nqts
The Early Career Framework will be in place from September 2021.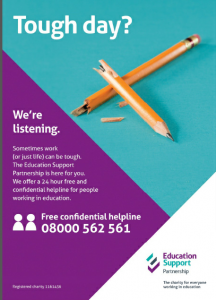 Education Support Partnership
UK-wide: 08000 562 561
Txt: 07909 341229
This helpline is free and available to all teachers, lecturers and staff in education (primary, secondary, further or higher education) in England, Wales and Scotland 24/7, 365 days a year.