Newly qualified teacher (NQT) induction
**Information for schools and NQTs preparing for induction from September 2020 **
Welcome to Solihull – a great place to teach. All teachers in maintained schools (with certain exceptions) must satisfactorily complete an induction period in accordance with statutory regulations in order to be employed as a teacher in a relevant school in England. NQTs must be registered with an appropriate body before they start.
The Local Authority will continue to offer an NQT Appropriate Body Service. The charge for using this service is £50 per NQT which includes registration, administration of assessment forms and phone/email support for NQTs and NQT mentors. If you would like to engage Solihull MBC as an appropriate body for your school for the academic year 2020-2021 please email the completed forms below to: nqtinduction@solihull.gov.uk by the 28th September 2020.
NQT registration form 2020 Essential checklist
You will find assessment forms, guidance documents and details of the induction year below including our Solihull protocol that we expect schools using us as the appropriate body to follow.
Deadline for assessment forms to reach us for 2019-2020:
Autumn term               Friday 11 December 2020
Spring term                 Friday 26 March 2021
Summer term             Friday 9 July 2021
Please email assessment forms to: nqtinduction@solihull.gov.uk
Assessment Form 1, 2 and Interim Assessment Form Final
NQT-induction-period-extension-notification
For NQTs doing their induction on a part time basis, induction will take longer so please contact us to confirm submission dates for their assessments.
Head teachers and NQT mentors/tutors should contact the adviser with responsibility for NQTs at the local authority with any issues regarding NQTs as soon as they arise. Please contact us for their details.
NQTs can speak to an impartial adviser at the local authority for confidential advice. Please contact us for their details: nqtinduction@solihull.gov.uk
Please contact your Human Resources adviser for information on contracts of employment and the process regarding failure of induction.
Continuing Professional Development (CPD) events are run by a range of providers, please see attached document. NQTs may also wish to attend courses within the main CPD offer for schools. 
NQT Solihull training package 20-21
South Solihull School Sport Partnership and North Solihull Sport provide a buy in service for schools and deliver a comprehensive joint CPD programme for Primary PE. A calendar of virtual and face to face opportunities for the year will be shared in September, there will be specific sessions for NQTs. Schools who buy into their full & enhanced packages will have access to all training; schools who do not will have to pay to attend. Please speak to your PE lead who will have the contact details for the School Games Coordinators.
Schools/academies are required to have a policy with regards to NQTs. The DfE recommend that this policy is reviewed annually at governing board level. A template for adaptation can be found here.
Useful links
DfE teachers standards: https://www.gov.uk/government/publications/teachers-standards
DfE NQT statutory induction guidance: https://www.gov.uk/government/publications/induction-for-newly-qualified-teachers-nqts
The Early Career Framework was designed to make sure early career teachers focus on learning the things that make the most difference in the classroom and their professional practice. The core induction programmes published here have been made available a year ahead of schedule so that the maximum number of newly qualified teachers can benefit from the support the ECF provides.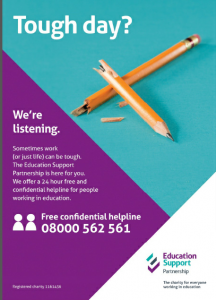 Education Support Partnership
UK-wide: 08000 562 561
Txt: 07909 341229
This helpline is free and available to all teachers, lecturers and staff in education (primary, secondary, further or higher education) in England, Wales and Scotland 24/7, 365 days a year.