Staff emotional health and wellbeing
The following statistics highlighted in the 2018 Teacher Wellbeing Index (conducted by the Education Support Partnership) make concerning reading:
67% of education professionals describe themselves as stressed (80% of senior leaders).
74%  of education professionals consider the inability to switch off and relax to be the major contributing factor to a negative work/life balance.
76% of education professionals have experienced behavioural, psychological or physical symptoms due to their work, compared with 60% of UK employees.
Whilst we all recognise that there are no 'quick fixes', the resources and websites on this page will support school leaders to ensure that they are fulfilling their duties as an employer and to demonstrate a commitment to workplace wellbeing. They will also support school staff to ensure that there is a 'whole school approach' to emotional health and wellbeing that considers all stakeholders.
Through validating as a Solihull Healthy School, you will be achieving a strong foundation for the health and wellbeing of your community; considering both physical and emotional health.
Schools and settings using Solihull's Human Resources services can access a range of advice and guidance, including details of the Employee Assistance Programme, here.
This recent report from the DfE: Summary and recommendations: teacher well-being research report, July '19, identifies a number of actions for school leaders to consider.
Mental Health at Work – resources and guidance providing support for line managers, colleagues and staff, ways to assess the organisations approach, ideas to improve workplace culture and how to help develop policy and practice.
Education Talking Toolkit – guide from the Health and Safety Executive to preventing work related stress in schools.
Supporting Staff Wellbeing in Schools – booklet from the Anna Freud Centre. This booklet has been developed with mental health experts, and aims to give school staff and senior leadership teams some simple guidance and good practical examples where schools have successfully implemented wellbeing strategies.
Mentally Healthy Schools – this website collects together a range of different resources including specific reference to governors' responsibilities.
The Mental Health Foundation have produced a thought provoking animation about stress and an online test to help you assess how stress might be affecting your life.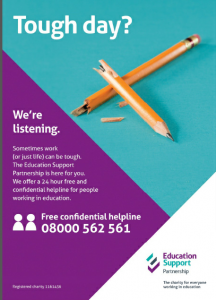 Education Support Partnership
UK-wide: 08000 562 561
Txt: 07909 341229
This helpline is free and available to all teachers, lecturers and staff in education (primary, secondary, further or higher education) in England, Wales and Scotland 24/7, 365 days a year.